Marketing Spotlight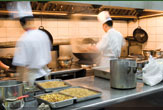 Restaurant Example
Nashville, TN
Unit: Cyclone Xi
Residential Applications
Now you can have full access to your water heater when you're away from home! Enjoy total peace of mind with the ability to simply monitor them at your convenience from anywhere in the world via a Web browser using iCOMM technology.
Upgrade to iCOMM Elite and let us do the worrying for you!
Commercial Applications
With the iCOMM Elite service from A. O. Smith, we'll monitor your facility's water heaters or boilers for you, no matter how many locations you manage. We'll even dispatch service for you. Enjoy unprecedented capabilities such as managing fault alerts and responding to leak detection and optional reports that can be emailed to you.
There are four easy steps you need to follow in order to begin taking advantage of the benefits iCOMM offers:
Step 1 – Confirm you have a compatible unit.
Step 2 – Verify that you have an always-on Internet connection in the same room as the water heater(s).
Step 3 – Call 1-888-WATER02 to purchase.
Step 4 – Don't forget to order the Elite Service Package (optional), letting us handle all your hot water needs.